---
TRAIN TO ROOTS TRAZ SEU NOVO CLIPE "ANCORA QUI"
Escrito por Victor Alberto em 3 de Maio de 2022
Formada na Sardenha em 2004, Train To Roots é uma das bandas mais famosas da cena reggae italiana e tem cativado o público em centenas de shows por toda a Europa.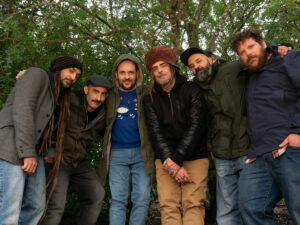 Enquanto constantemente avançam e entregam shows ao vivo explosivos, eles mantiveram uma mistura incomum de estilos e idiomas em toda a sua discografia, incorporando tudo, desde as nuances da música jamaicana e negra com letras envolventes e engraçadas em italiano, sardenha e inglês. A banda começou sua jornada com o álbum de estreia de mesmo nome Train To Roots (2005). Este foi seguido por Terra e Acqua (2008) com Sargento Garcia e Ranking Joe, que foi remixado em 2009 com duas faixas bônus, incluindo uma colaboração com Errol Bellot.
Posteriormente, eles lançaram Breathin' Faya (2011) e Growing (INRI, 2014), que marcaram um ponto de virada para a banda, trazendo uma nova maneira de trabalhar e introduzir novos estilos de black music. O quinto álbum Home (INRI, 2016) é distribuído globalmente pela VPAL Music, e inclui colaborações dos italianos: Clementino, Madh, Levante e Lion D, além dos espanhóis Aspencat e Auxili. Seu trabalho mais recente é a Declaração N° 6 (INRI, 2017), composta por onze faixas inéditas enriquecidas pela participação de Bunna, vocalista da Africa Unite e do compositor de Milão Eugenio Finardi.
Durante seus dezoito anos de carreira, Train To Roots incorporou inúmeros elementos contemporâneos em sua música e enfrentou vários desafios. Seu crescimento contínuo os levou, em 2019, a redirecionar o trem de volta às raízes em um sentido amplo, com um retorno às raízes do reggae, cantado na Sardenha e italiano, como você já pode ouvir em seus últimos singles.
---